Regenerating Members are recurring monthly donors to the Savory Institute who receive exclusive members-only perks as a token of appreciation for their support, and whose support provides predictable
What are the Regenerating Member perks?
Membership perks increase with your level of support. These perks include a free Foundations of Holistic Management online course, exclusive quarterly webinars with regenerative agriculture thought leaders, an annual meeting with Allan Savory, discounts with partner brands, and membership to our private online collaboration group.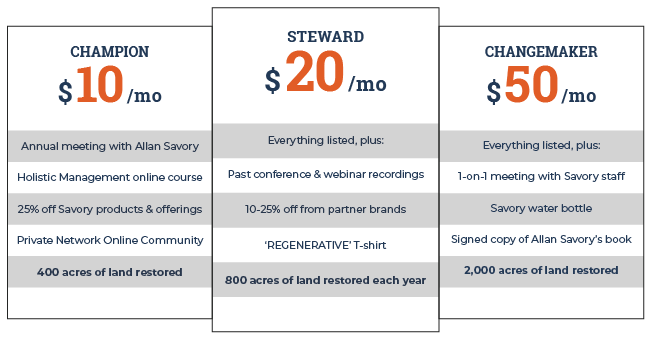 How do I access my Regenerating Member perks?
After signing up to become a member, you will receive an onboarding email from contact@savory.global with information on your various membership perks. This will include a discount code to access the free Holistic Management course, instructions to join our private online community, discount codes, links to media, and a form to send your mailing address for physical perks.
Please add contact@savory.global to your email whitelist and get in touch with us if you have any issues with accessing your benefits.