Depending on your learning style and your goals, there are a few different ways to get started learning and practicing Holistic Management:
Take a course (online or in-person)
Read the books (textbook and handbook)
Read the e-books (high-level overviews only)
Just wing it (strongly discouraged)
👉 Start with the Foundations
The first step where everyone should start is the Foundations of Holistic Management course module. This can be taken through a Savory Hub, online through Savory Institute's online course, or you can find the content in the books/e-books. In the Foundations course, you will learn:
What Holistic Management is and how it is used to manage complexity
The four ecosystem processes and their impact on the environment
What tools are available for managing ecosystem processes and how their application affects land
How to make decisions that align with your resources and values
How to plan your decisions around the short and long-term
Then, take a course.
Once you are familiar with the foundations, you can then dive into the four planning procedures of Holistic Management, which do not need to be taken in any particular order:
Holistic Planned Grazing
Holistic Land Planning
Holistic Financial Planning
Ecological Monitoring
When the foundations and all four planning procedures are taught together, this is often referred to as a "Holistic Management Comprehensive." Sometimes you might find the specific course names above slightly altered depending on who is offering the course (e.g. "Foundations of Holistic Management" might be called "Intro to Regenerative Grazing" to attract a broader audience), but if taught through an accredited Savory Hub or AP, the content should be consistent throughout the Savory Global Network.
How to Find a Course/Training
Savory Hubs offer Holistic Management training in different forms. They might offer weekend courses spread out through the year, 1-on-1 coaching, a week-long in-person Holistic Management Comprehensive, a once-a-week Zoom class that spans multiple months, or a combination of any of these formats.
To find an upcoming course, you can contact a Savory Hub directly or browse upcoming courses on Savory's Events Calendar where you can refine your search by location, date, course offering, Hub, and virtual or in-person, as shown here: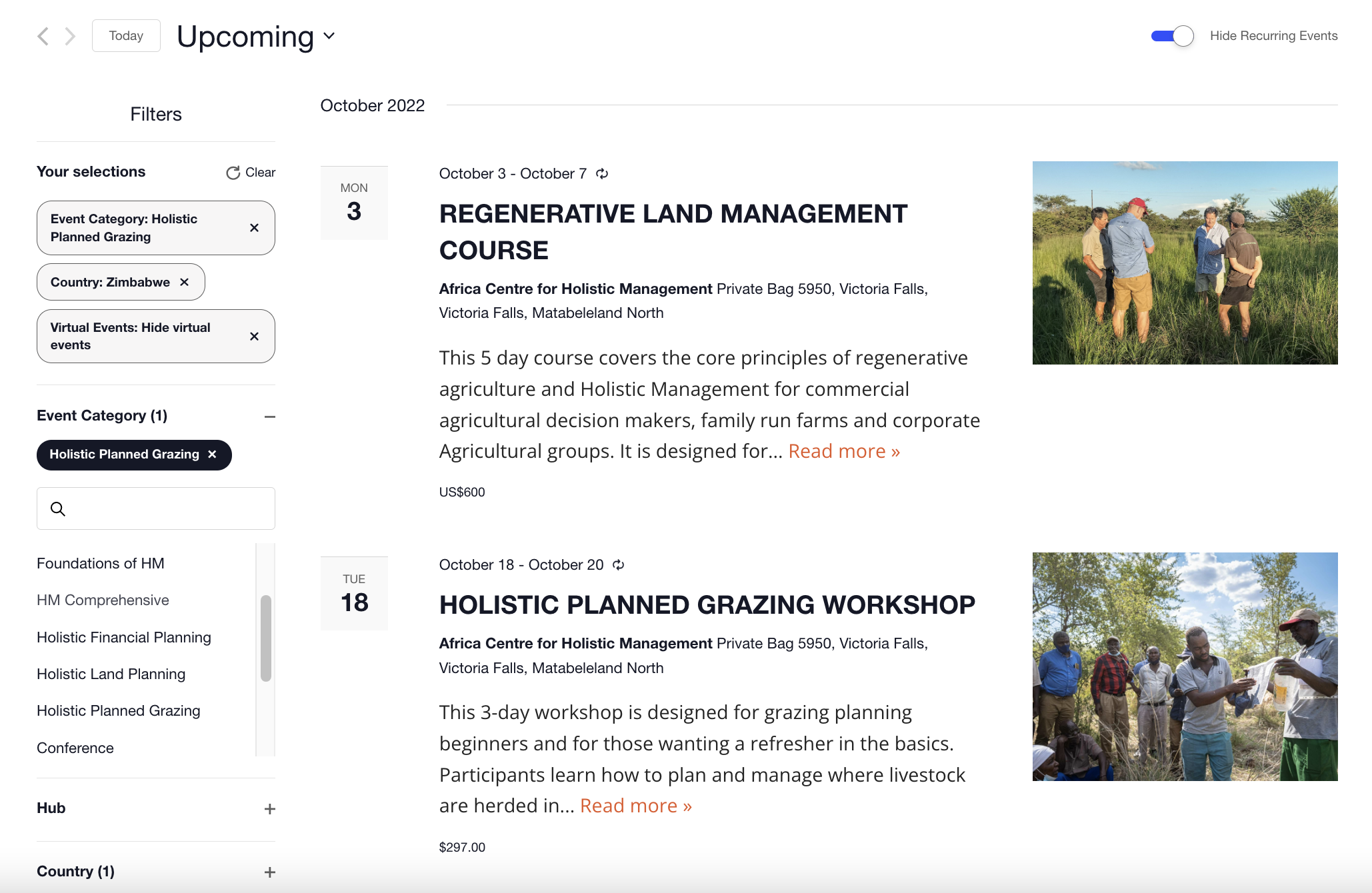 What's in the Books?
There are two core Holistic Management books, both of which are recommended reading either as standalone material or as supplements to course work. They should be read together as they are complementary to one another:
The textbook — Holistic Management: A Commonsense Revolution to Restore Our Environment, 3rd Edition by Allan Savory with Jody Butterfield
The handbook — Holistic Management Handbook: Regenerating Your Land and Growing Your Profits by Jody Butterfield, Sam Bingham, and Allan Savory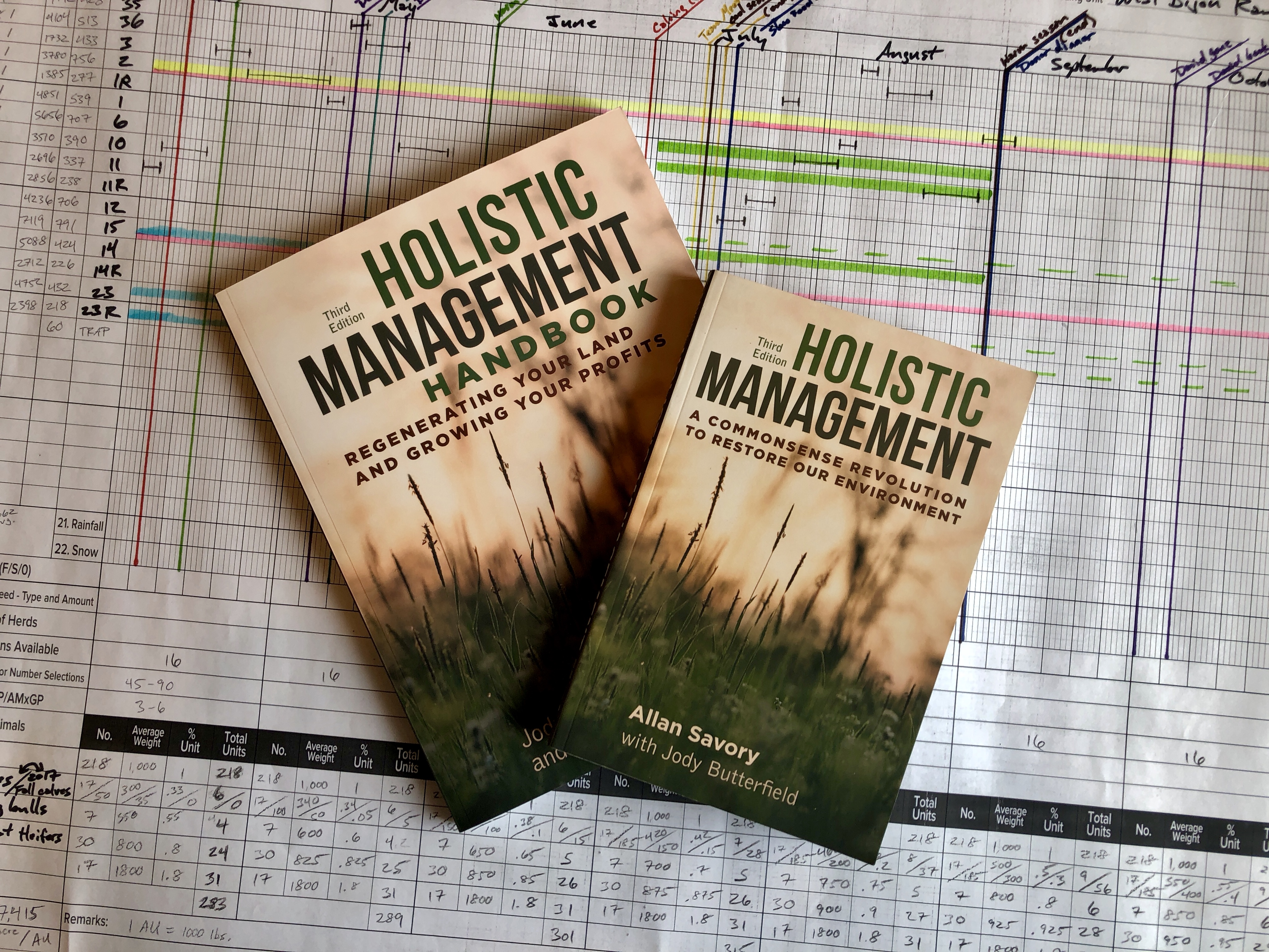 The links above will take you to Savory's online store, but the books can be purchased wherever books are sold and they are available in multiple languages.
The textbook dives deep into the core insights and understandings of the Holistic Management framework and its practical applications in addressing many of our global crises, including desertification, climate change, biodiversity loss, and more.
The handbook covers the planning and monitoring procedures land managers need to master: Holistic Financial Planning, Holistic Planned Grazing, Holistic Ecological Monitoring, and Holistic Land Planning. Each chapter starts with a review of basic concepts and techniques and then takes you through the step-by-step procedure for getting your plan down on paper, monitoring it, adjusting it; or, in the case of ecological monitoring, recording changes on the land and interpreting your results.
What's in the E-Books?
There are a 13 e-books covering the Holistic Management material. They are grouped together into three bundles:
Foundations E-Book Bundle

E-Book 1 - Introduction to Holistic Management
E-Book 2 - Introduction to Ecosystem Processes
E-Book 3 - Tools to Manage Ecosystem Processes
E-Book 4 - Holistic Decision Making
E-Book 5 - Monitoring Your Decisions

Financial E-Book Bundle

E-Book 6 – The Fundamentals of Holistic Financial Planning
E-Book 7 - Creating Your Holistic Financial Plan

Grazing E-Book Bundle

E-Book 8 - The Fundamentals of Holistic Planned Grazing
E-Book 9 - Creating Your Holistic Grazing Plan
E-Book 10 - The Fundamentals of Holistic Land Planning
E-Book 11 - Creating Your Holistic Land Plan
E-Book 12 - The Fundamentals of Holistic Ecological Monitoring
E-Book 13 - Monitoring Your Land
E-books are for purchase exclusively on Savory Institute's online store and are availabale in English, Spanish, Portuguese, German, and Czech... with more languages continually being added.